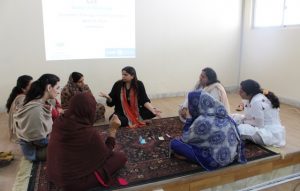 CGaPS hosted an intensive four-day orientation training for the AAN field partners of ten districts from across Pakistan and Gilgit Baltistan in April 2016. The training facilitated by Yasmin Zaidi (Director CGaPS) and Rashida Dohad (Executive Director, Omar Foundation), traversed the basic concepts of politics, democracy and engaged citizenship to actually understanding the process of voting beginning with registration and ending at casting the actual vote.
The interactive four days led to sharing of knowledge and experiences from each district from the very experienced AAN partners.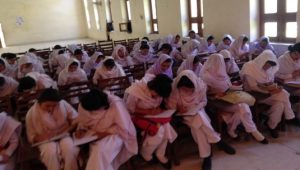 College students completing the Knowledge, Attitude and Practices (KAP) forms during the introductory briefing sessions
about AAN.  The Field Coordinators conducted a total of 31 sessions with 1200 participants in 23 colleges. 1058 female students filled out the KAP forms.